The next step you keep missing!
Video creation without video marketing…what were you thinking genius? ?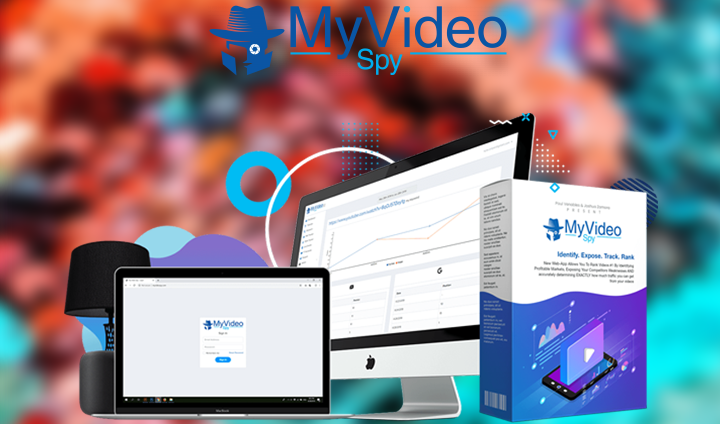 Pretty sure you've got a few video creation apps.
I'm sure you're creating videos using our apps like VCFX2, VideoReel, ViralReel, ClipsReel and others. I mean, it's so EASY to create videos using the software you already have.
BUT what exactly do you do after creating the video?
I mean, do you just upload it somewhere, hoping it'll magically bring traffic and sales?
See, the videos don't work if you're not ranking them #1 on YouTube and Google. And I know your last attempt at SEOing your way to free traffic and sales was a sheer disaster.
Luckily, there's an app for that.
Introducing MyVideoSpy!
TL;DR – Here's what MyVideoSpy does for you:
Quickly identify untapped niches and keywords in a few mouse clicks.
AGENCY LICENSE + SpyVID Upgrade FREE (only today)
Expose Your Competitors Weaknesses to know EXACTLY how to outrank them.
The FIRST and ONLY platform to accurately determine how much traffic your videos will get so you waste ZERO time and effort.
Generate Page #1 Rankings in under 24 hours with VERY little effort.
Convert ViralReel or any video creation app into a Traffic and Sales MACHINE when combined with MyVideoSpy.
MyVideoSpy is a pretty straightforward app and it'll make sure your videos rank and bring in traffic within 24 hours guaranteed.
No seriously! You'll be ranking your videos within 24 hours or get your money back.
MyVideoSpy works in 4 easy steps to help you rank and actually get buyers to your videos. Here's how:
Step 1: IDENTIFY:
Let the app uncover UNTAPPED niches and keywords for you in a matter of SECONDS!
Step 2: EXPOSE:
Let the app expose ALL of your competitors weaknesses so you know EXACTLY what you have to do to outrank them. Sneaky!
Step 3: TRACK:
Let the app tell you EXACTLY how much traffic you can potentially get from your desired keywords so you know if it's WORTH your time OR NOT AND it'll track your video rankings as well.
Step 4: RANK:
Once you've identified your target niche and keywords, turn them into INSTANT page 1 rankings with it's powerful, built-in LIVE-LISTINGS engine.
And done!
In rush? Watch our quick walkthrough: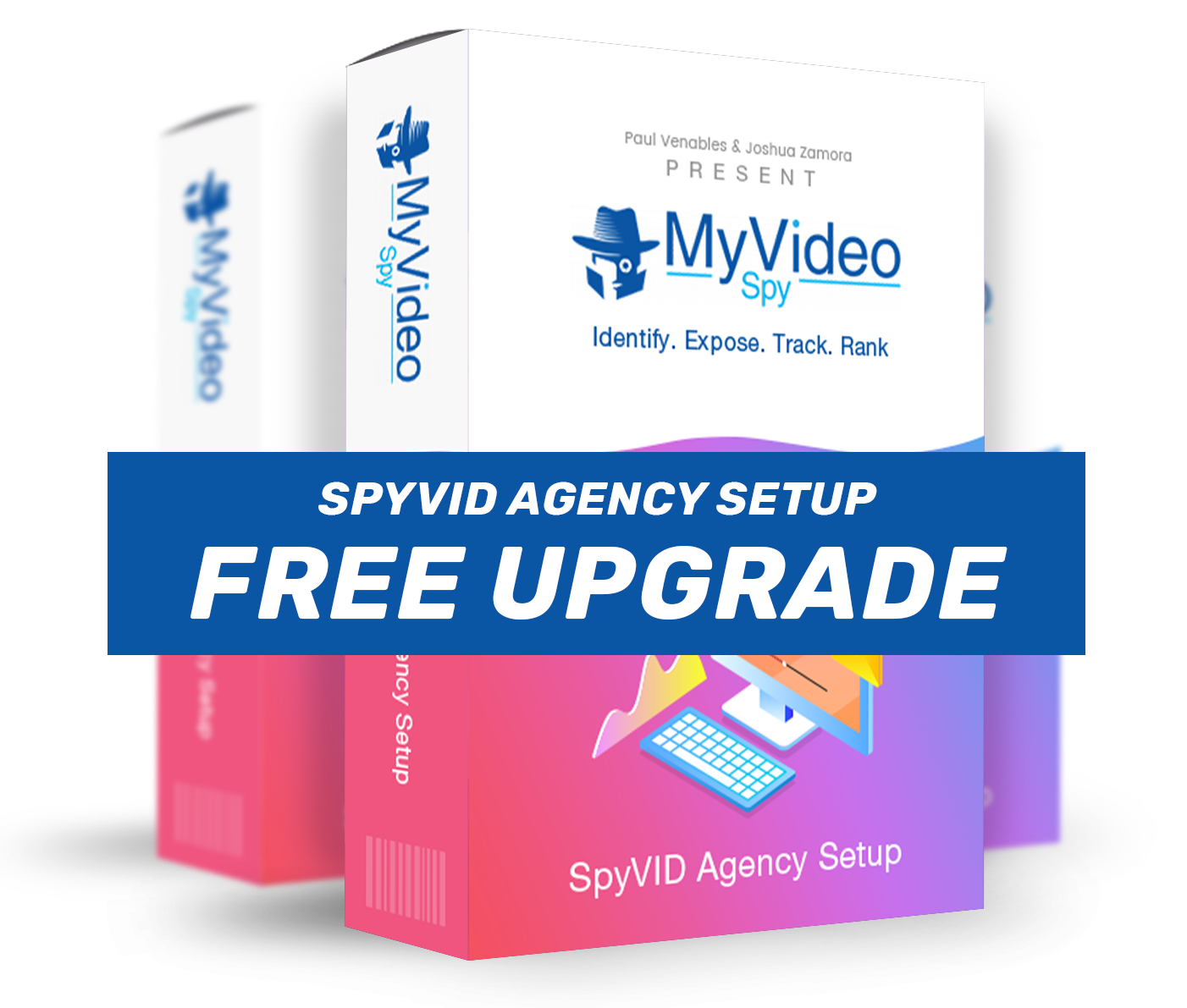 Free Upgrade #1:
SpyVID Agency Setup
With the MyVideoSpy you get the Agency license, which means you can start using MVS for your clients and start offering SEO services, video ranking services, keyword research and optimisation services and even YouTube Channel and Video optimisation services. Easiest way to make money.
But what you need is a professional website to help you look like the real deal and not some fiverr guy. Using the SpyVID Agency Setup you will get access to our ready-made done-for-you agency website with all pages created for you and paypal button integration already added.
Simply upload, install and edit your logo. You now have your professional looking agency website ready.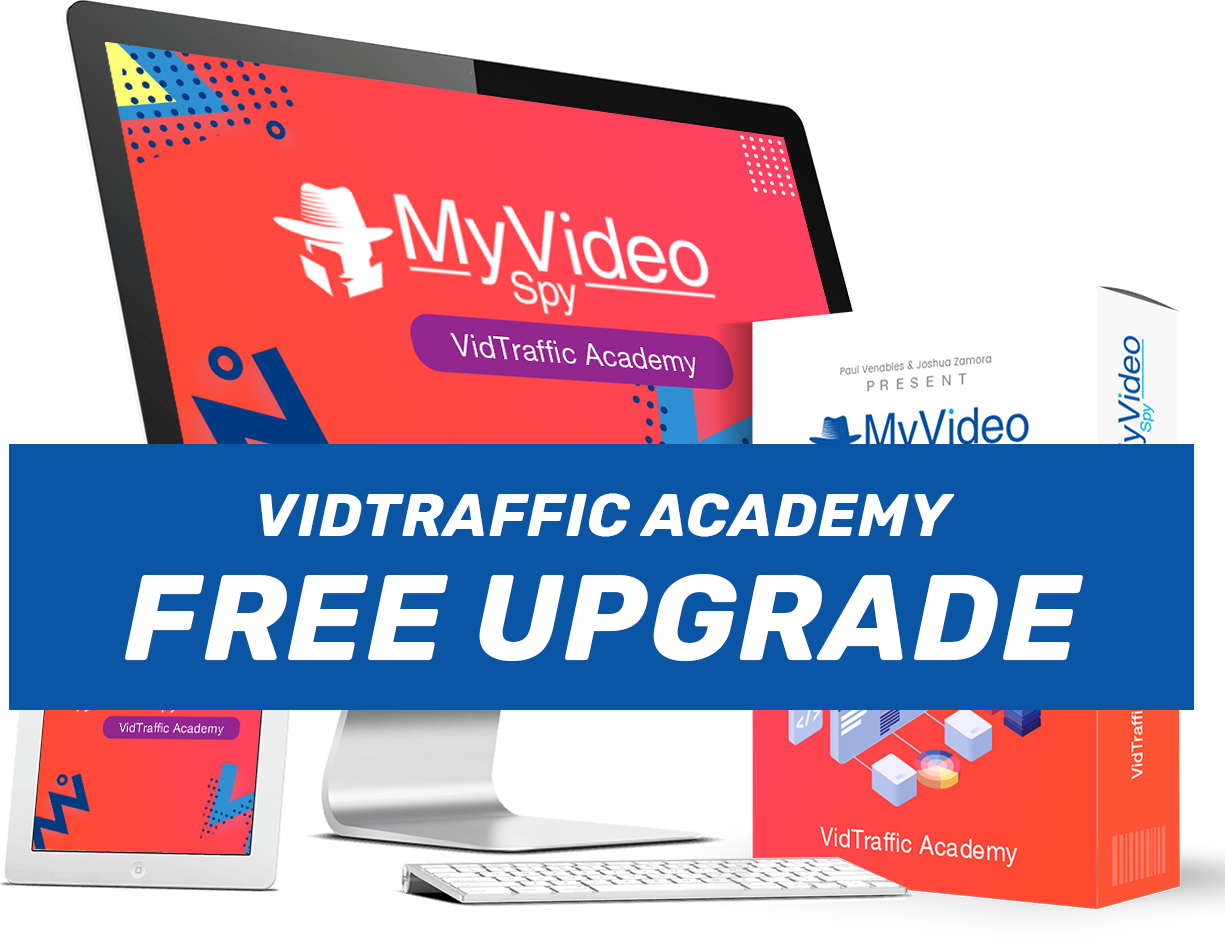 Free Upgrade #2:
SpyVidTraffic Academy
This is a very detailed, easy to follow course that even a complete beginner can follow and get results with actionable steps to succeed.
Learn what video marketing is all about, how videos are generally used andwhat kinds of videos there are for marketing purposes.
Why video marketing is such an amazing shortcut to take your business and profits to any level you want, along with shocking facts that will open your eyes to the power of video!
See first hand how businesses are using videos in their marketing efforts, so that you can have complete confidence in this powerful marketing strategy for your own business.
Discover the top video sharing sites, what their benefits are, as well as how each one can help you get the most out of your video marketing efforts.
Highly effective power tools that can make video marketing ridiculously simple for you, even if you haven't created a single video in your life!
Step-by-step video walkthrough of how to create, upload, optimize and even advertise your videos from start to finish!
How to get FREE images & video clips and even create really nice looking videos for dirt cheap using a "point & click" video creation platform that makes it easy for anyone to create and share extraordinary videos!
How to do video marketing the right way using the most effective and easy to apply methods to maximize your traffic and profits!
Easy to follow steps you can duplicate over and over to create HIGH CONVERTING marketing videos from the ground up!
Several underground tricks & tactics you can apply to see great results in your video marketing efforts.
Shocking case studies you can model after that use video marketing as their primary method to increase traffic and conversions!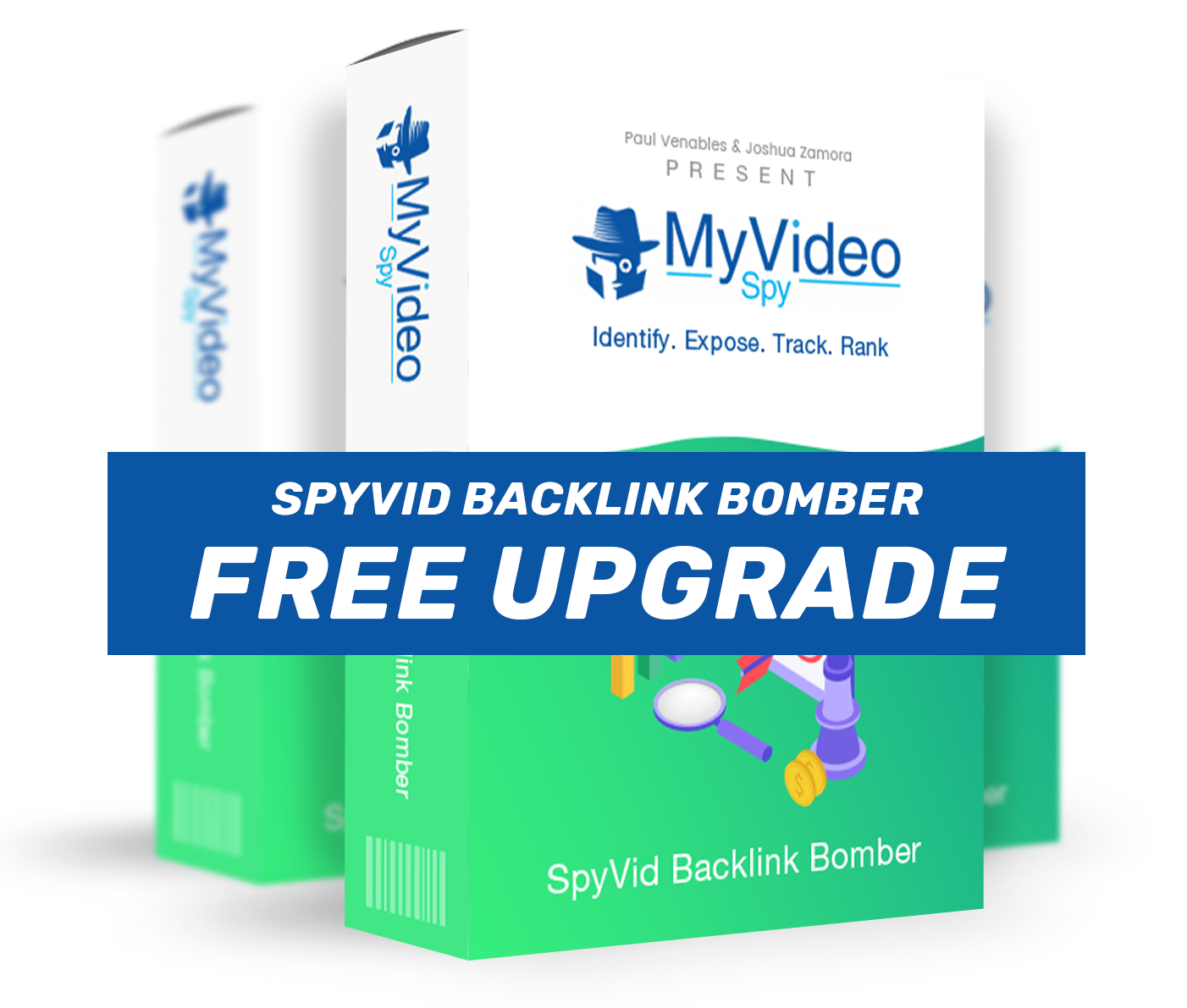 Free Upgrade #3:
SpyVID Backlink Bomber
Finally turn the tables on YouTube and start putting your backlinks on the top ranking videos – 100% Whitehat Method – Automated software does all the work!
Link building is one of the best techniques to make your webpage higher in Google SERPS.
As internet marketer and SEO's we already knew that each backlinks are not equal in terms of power.
One of the best sources of links came from high page rank webpages which is relevant to your niche or perhaps from a high ranking video.
Internet marketers wants to have those video backlinks but the question is that, how are you going to put your link on those videos?
VidSPY Backlinks Bomber is the answer to that question.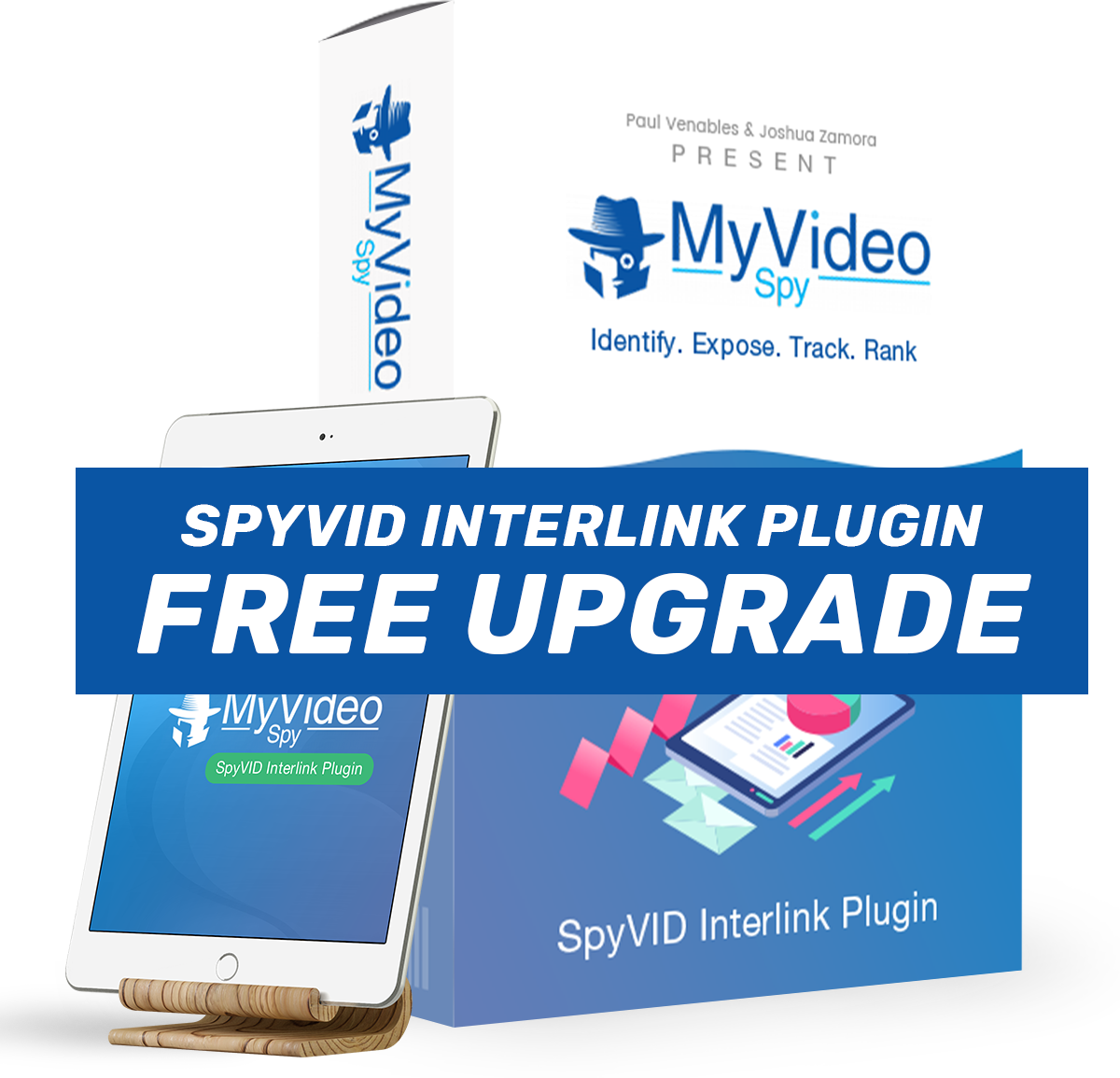 Free Upgrade #4
SpyVID Interlink Plugin
Using this easy to use plugin you can not only rank your videos but also onpage SEO optimise your wordpress or any type of website and leverage the lesser known yet very powerful Interlinking property to get better SERP results and more traffic for free.
What can smart internal linking do for your sites:
Link keywords automatically to internal pages related to the viewed post – capturing your visitor with information that sparks their interest.
Keep visitors on your site longer while dramatically decreasing your bounce rates. This further improves your click-through rate AND sends your profits sky high
Interlink posts allowing each of your pages to benefit from the ranking power of Google authorship.
Maximize your income by linking and cloaking affiliate links – giving you unbeatable money making potential.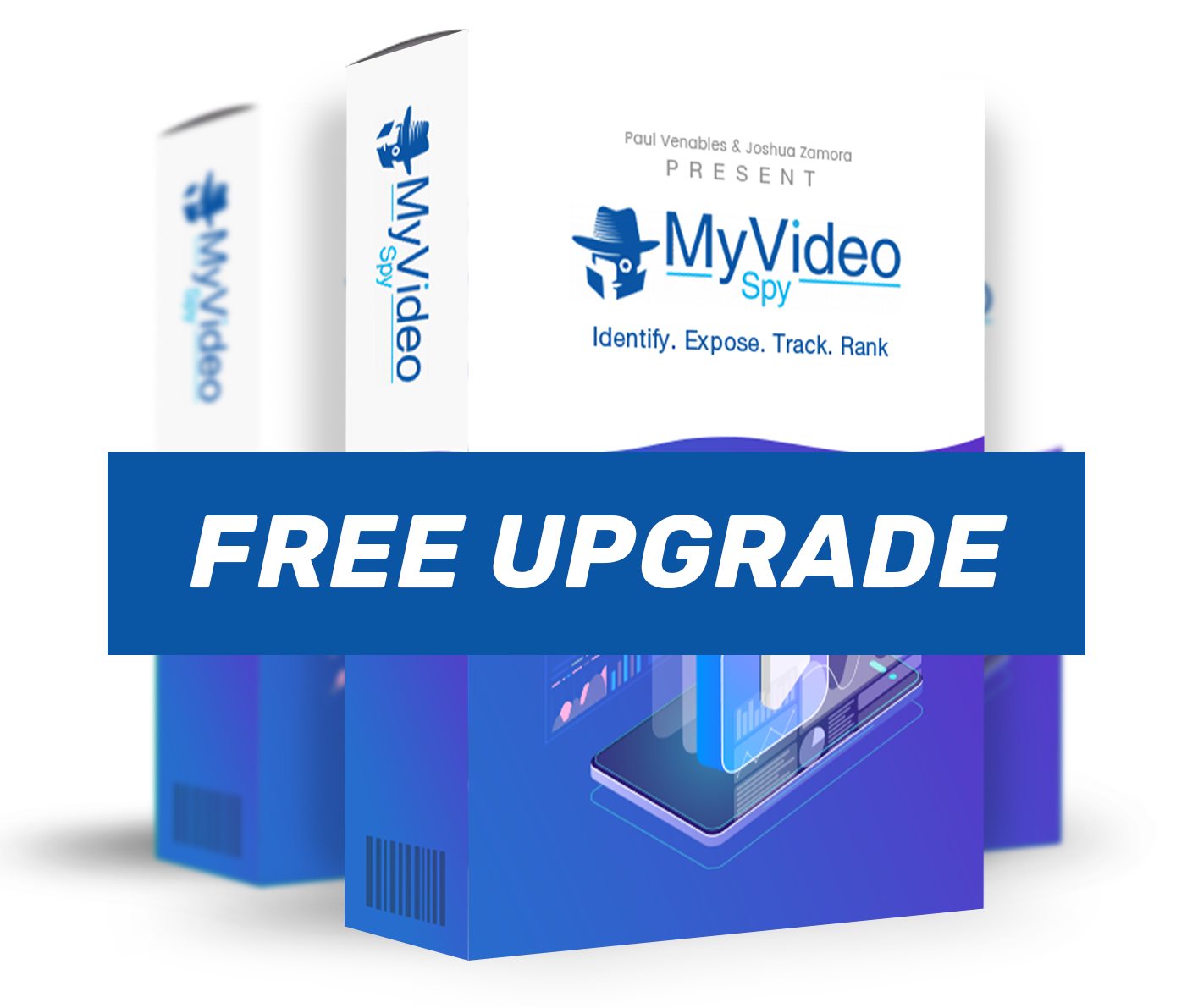 Free Upgrade #5:
AffiliateSpy Finder Update
The Affiliate Spy Finder update is going to allow you to quickly discover high-converting affiliate offers to monetize your campaigns with. This update will be ready within 60 days of the launch and added toy our MVS account for free.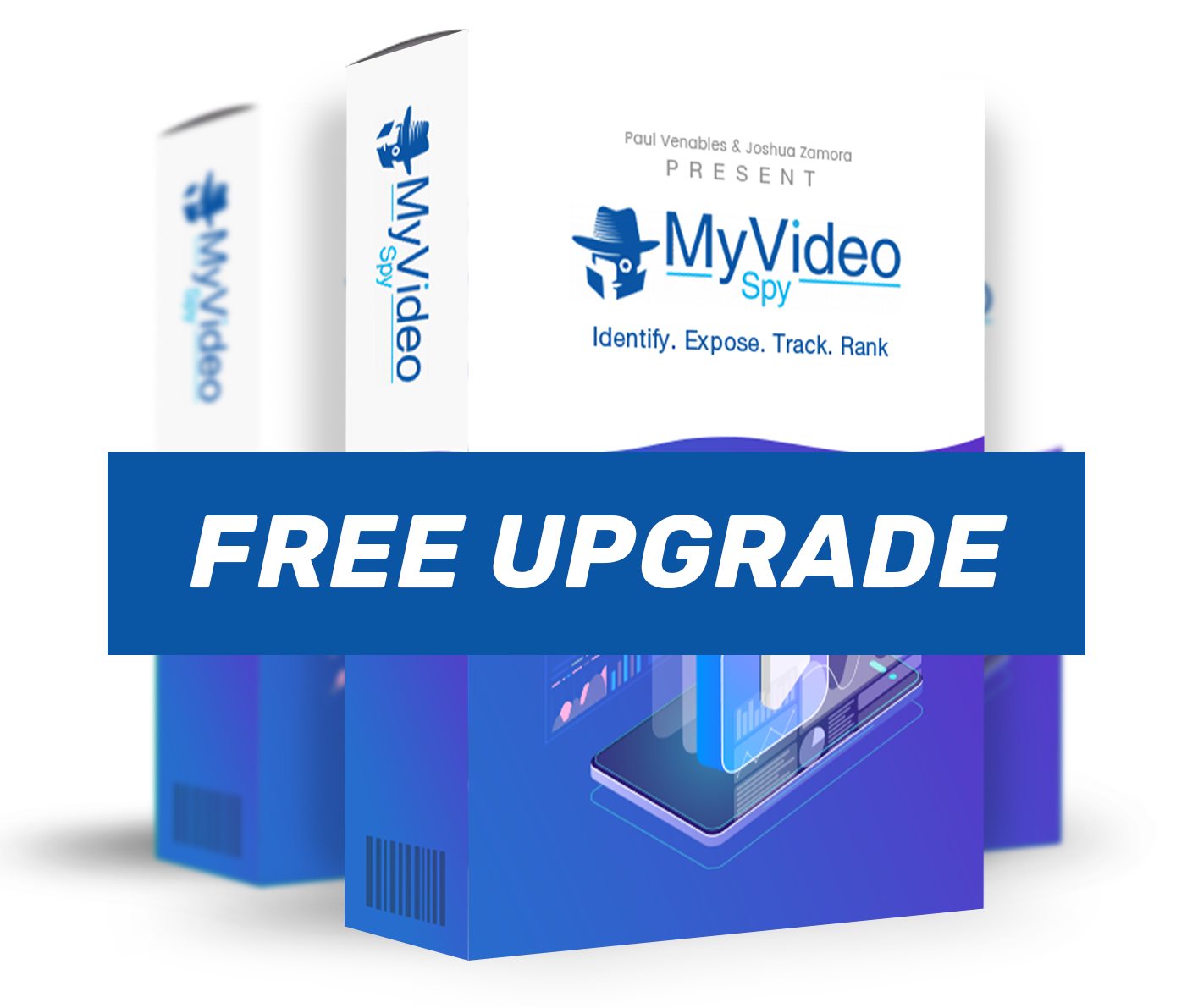 Free Upgrade #6:
KW Density Checker Update
This is another powerful update for MVP that will be added to your MVS account to reveal even more about what your competitors are doing to rank their videos. This update will check exactly what keywords your competitors are optimising for and the % of times they're mentioning these keywords so you can replicate it and hijack their rankings.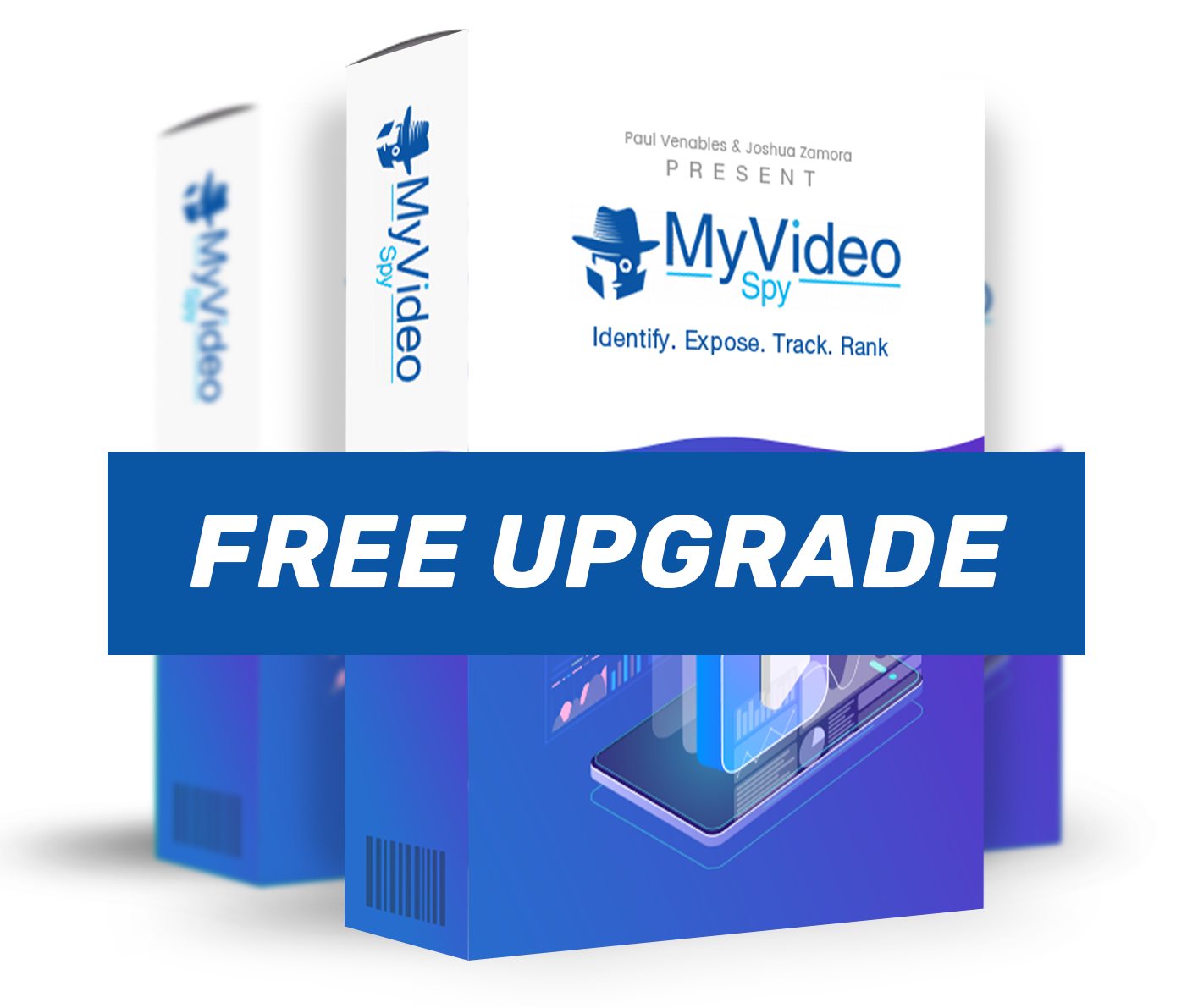 Free Upgrade #7:
Keyword Bootcamp Training
As mentioned previously, ensuring that you choose the right keywords is the foundation of any profitable video marketing campaign. That's why MVS team created a step-by-step keyword bootcamp training that will walk you through the exact type of keywords we target in our business and why. MVS team even reveal the 5 exact type of keywords they like to target.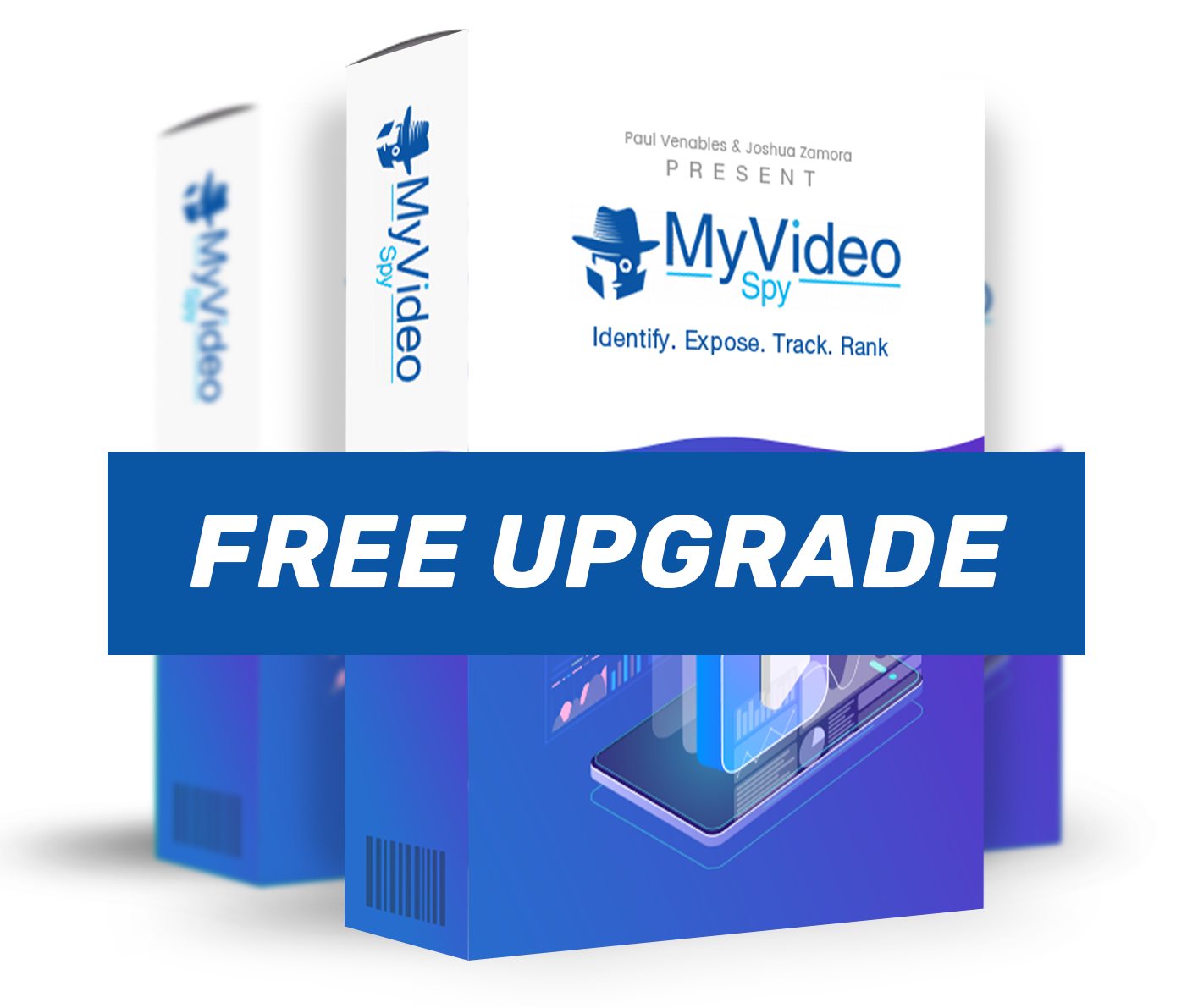 Free Upgrade #8:
LIVE 90-Minute Training by MVS
On top of an already amazing software tool, MVS team will be going an extra mile and putting together a LIVE 90-minute training session where we'll be showing you exactly how to hit the ground running with MyVideoApy app.
The coolest thing about MyVideoSpy is the fact that is really really REALLY works. We tried it out a few times last week, random niches, simply videos and promoted random Clickbank products and ended up make 21 odd sales from just testing.
If you use this right (just follow the training inside the dashboard) you could literally make sales tomorrow.
Best part, if you don't like it…you can always get a refund and still get to keep the SpyVID Upgrade from me for free. That's my bonus guarantee.
Get the SpyVID Upgrade FREE today with MyVideoSPY!
Make sure you see affiliate ID 685227 on checkout to qualify for this bonus. The bonus is delivered automatically in your JVZoo receipt. If you do not see affiliate ID 685227 or have any issues getting your bonus, please contact us at support.vineasx.com

Get MyVideoSpy With My SpyVID Upgrade