Social Proof is the new currency!
⭐️ Use video testimonials social proof on your websites. ⭐️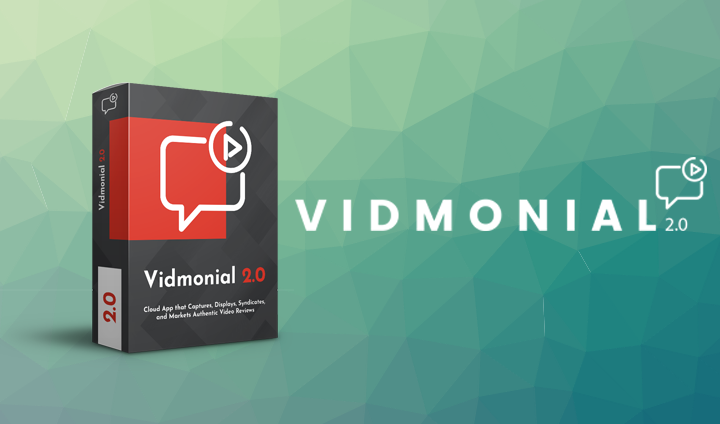 You won't buy anything from a random seller or business online if you don't trust them, right?
And the only way to trust someone online is to know if the other people just like you trust them or not. This is called "Social Proof" and when used on yours salespage or funnels, it can drive you sales off the roof!
The best way to show social-proof is to incentivise your buyers to leave a video testimonials on your website, collect them all and display them on your website.
That's exactly what Vidmonial 2.0 does.
TL;DR:
Get Autopilot Video Reviews – Collect video testimonials on full autopilot in the cloud & mobile. Nothing to setup or install.
Easy Video Editor – Add graphics, CTAs, BG music & more to turn your captured into great marketing content
Bonus Creation & Delivery – Incentivize and reward anyone who leaves a video review with an ethical bonus handsfree
Sell to Clients – Get Commercial Rights to generate video testimonials for clients, an easy sell that every business needs more of
Syndicate For Traffic – Embed your videos anywhere w/ social proof widgets & syndicate to popular networks for traffic in a click.
FREE Upgrade to Vidmonial Advanced Kit – Do more with Vidmonial, sell the services as an agency and finally make money using this.
Vidmonial 2.0 is a cloud platform that automates the processes of incentivising, capturing and displaying authentic video testimonials.
The new 2.0 version is now an entire video marketing review suite that captures, edits, syndicates, and markets both video and text testimonials all-in-one.
In rush? Watch this quick video explaining everything: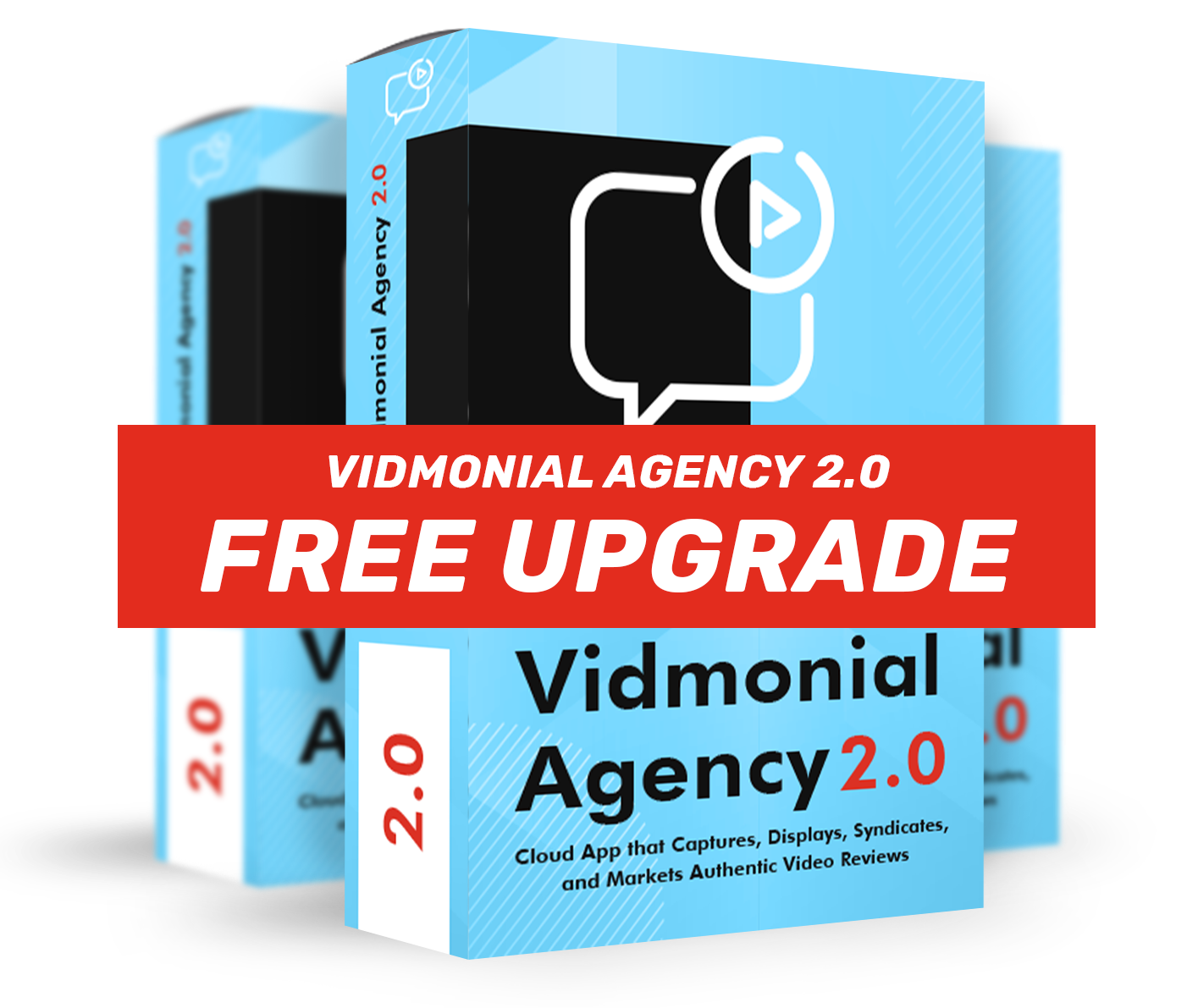 Free Upgrade #1:
Vidmonial Agency2.0
With the Vidmonial 2.0 you get the Commercial license. The commercial license lets you start your very own social-proof agency. Using Vidmonial 2.0 you can start offering social-proof services to your clients and optimisation their websites, pump up their sales.
But what you need is a professional website to help you look like the real deal and not some fiverr guy. Using the Vidmonial Agency 2.0 wordpress website setup you will get access to our ready-made done-for-you agency website with all pages created for you and paypal button integration already added.
Simply upload, install, edit your logo and you are ready to make sales. You now have your professional looking agency business website ready.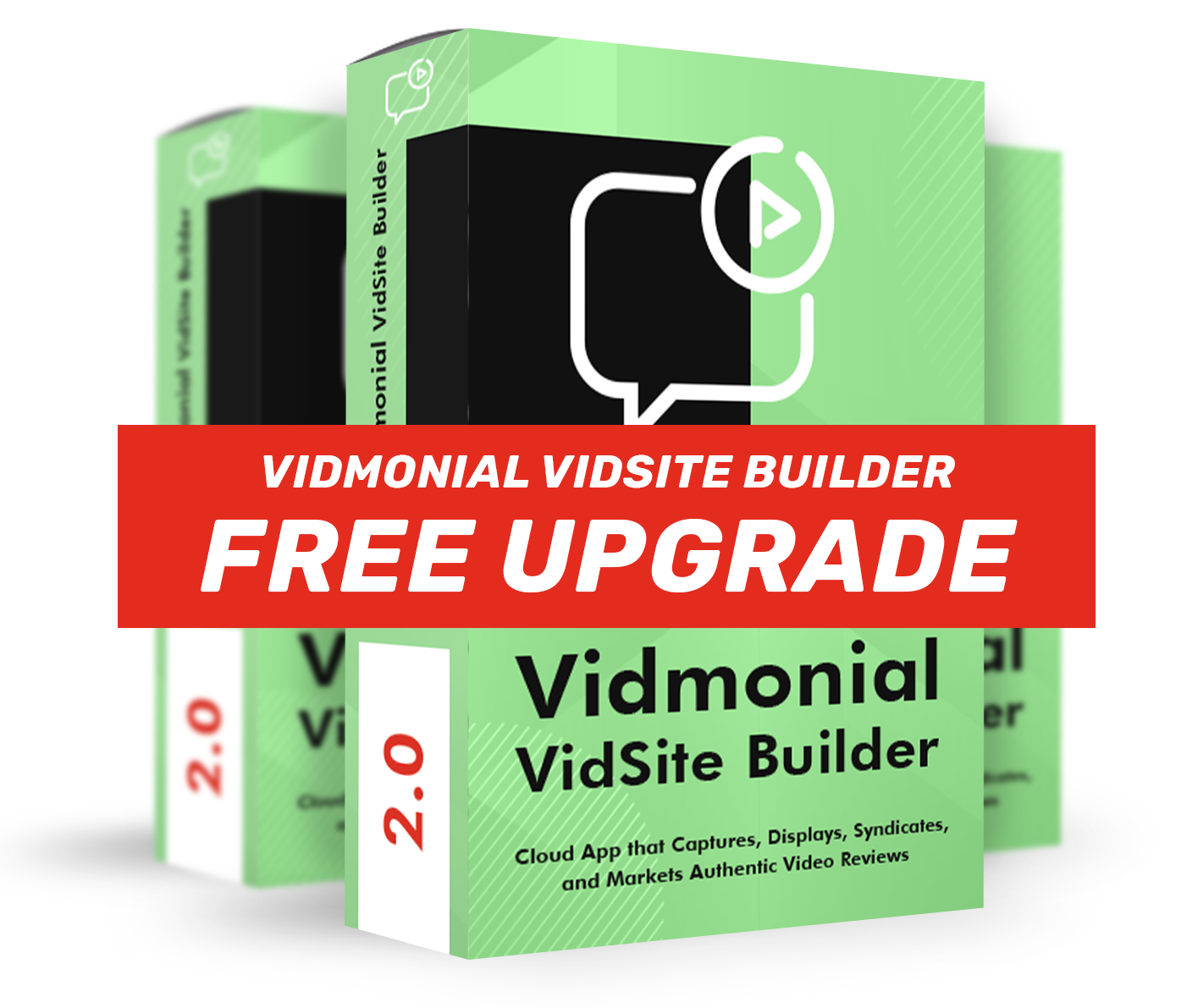 Free Upgrade #2:
Vidmonial VidSite Builder
Create UNLIMITED content rich, self-updating and auto-traffic video bblogs, in minutes…without ever creating a single video!
Create traffic getting video sites for yourself and your clients, and even use them to showcase your video testimonials collected via Vidmonial 2.0.
Auto Site Builder: Build Auto-Video blogs within minutes. Simply type in your keyword and the theme will automatically find tons of videos and publish them on your blog.
Video Intelligence: Intelligent Duplicate-Video Algorithm makes sure that no video is reposted and keeps the duplicate content level to ZERO.
Smart Video: Automatic OR Manual Video Selection – You choose if you want the theme to publish all the videos or let you pick the ones you want published. You're in Command!
Youtube Builder: Finds videos from YouTube based on trend, traffic, views, and comments and schedule them for going live at specific intervals.
HTML5 Player: Custom HTML5 Video Player to increase your Video Blogs branding. No more ugly YouTube player.
Video Reviewer: Review ALL the duplicate videos from the review tab.
Built with Bootsrap: The theme is built with bootstrap and based on the most popular high engagement video blogs to make sure your visitors stay and watch your videos
Social Sharing: Share your videos on Facebook & Twitter!
Fully Responsive: Google just dropped the hammer on non-mobile ready sites….so our theme is fully mobile responsive – you'll have no google issues
Fully Customizable: Wysiwg style editing and tons of shortcodes mean no two NeosTheme sites will be the same
Featured Videos: Highlight videos you want to drive extra traffic to with the powerful 'featured' functions that let you showcase what you want, where you want
Detailed Analytics: Built-in analytics system so you can see how your SocialNeos campaigns are performing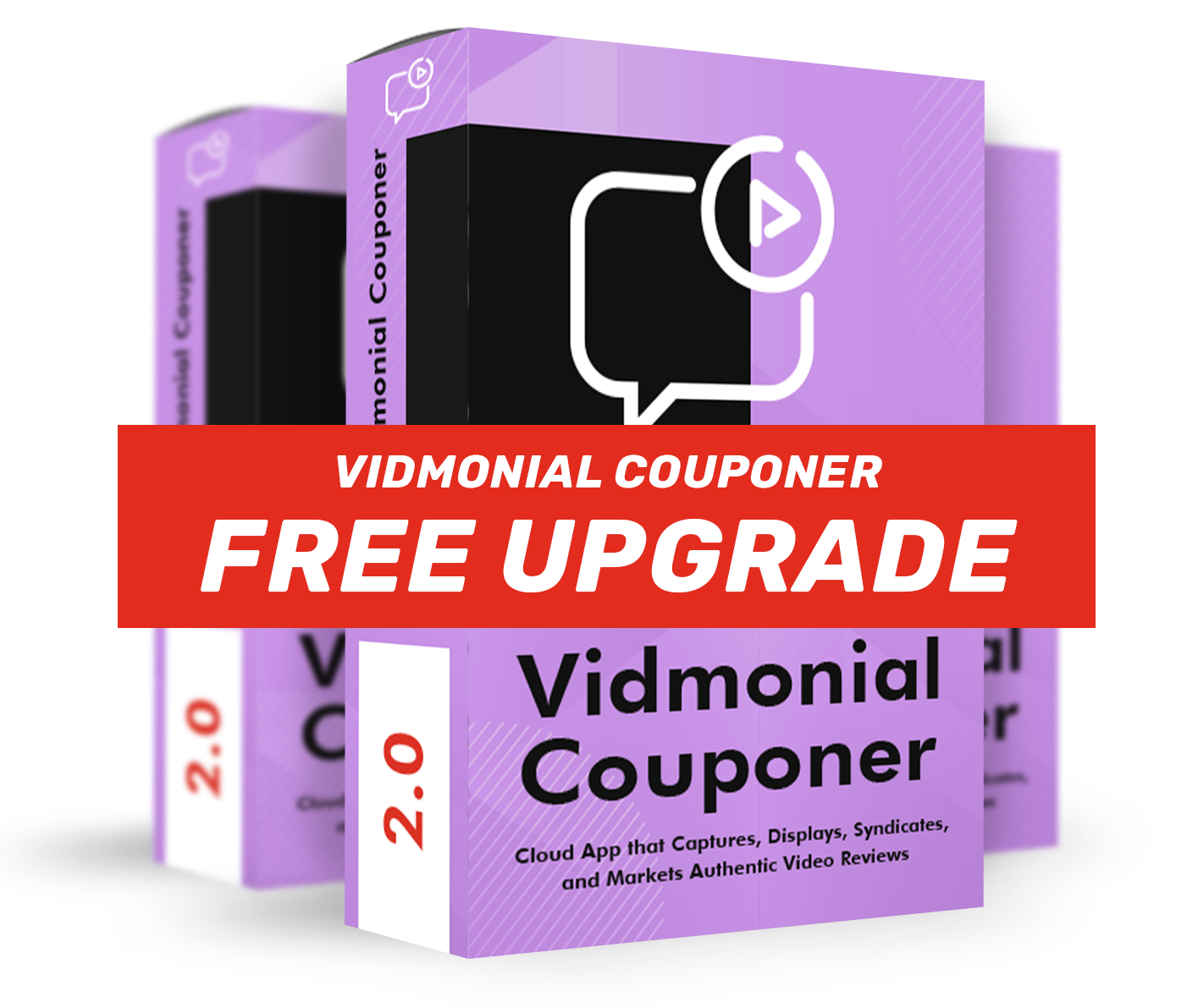 Free Upgrade #3:
Vidmonial Couponer
Grow your clients business and Facebook fans with creating viral coupons!
With this plugin you can create coupons you can print to give to offline customers with a QR code to share the coupon on Facebook.
Easily create a mobile landing page where you can reveal a coupon code once they share the coupon on Facebook.
You can also…
Create a nice html mobile site, or a have more freedom to create a graphic coupon mobile page & graphic mobile reveal coupon
You will be able to see how many times your mobile coupon page was viewed and how many people shared the coupon!
You can grow your clients facebook fan page likes by allowing their customers to share their FB page to reveal a better coupon code! Straight from their mobile phone!
And more!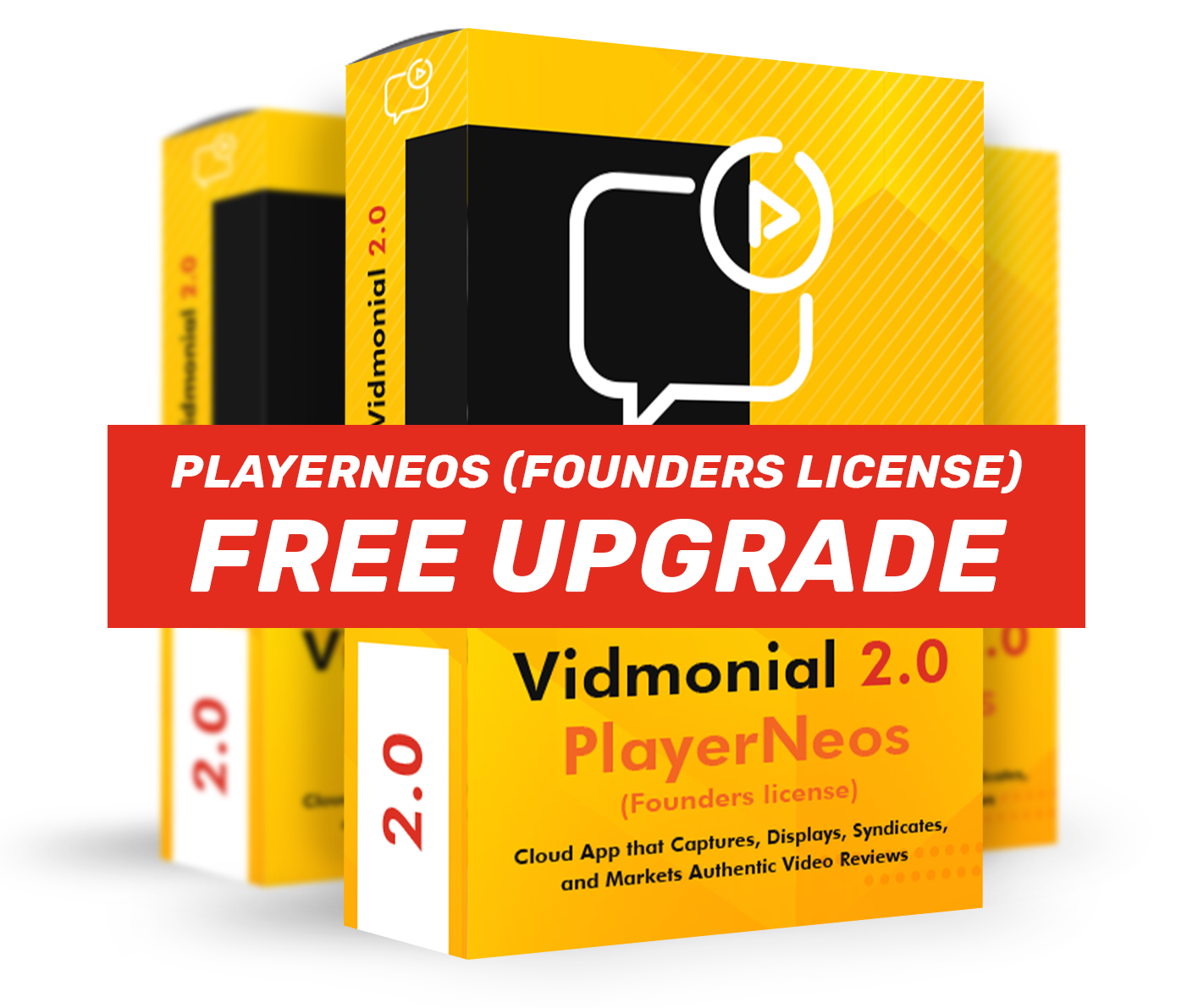 Free Upgrade #4
PlayerNeos (founders license)
Want to autoplay your videos on Chrome and other browsers that keep blocking them?
Or do you want to hide video hosting websites branding? PlayerNeos lets you do all of this and more. Using PlayerNeos you can customise your video embeds to even include buy now buttons, optins forms and more.
PlayerNeos Founders license gives you access to the PlayerNeos WordPress plugin that helps you autoplay all the videos on any browser and also the PlayerNeos yet-to-release cloud versions that lets you customise your video players.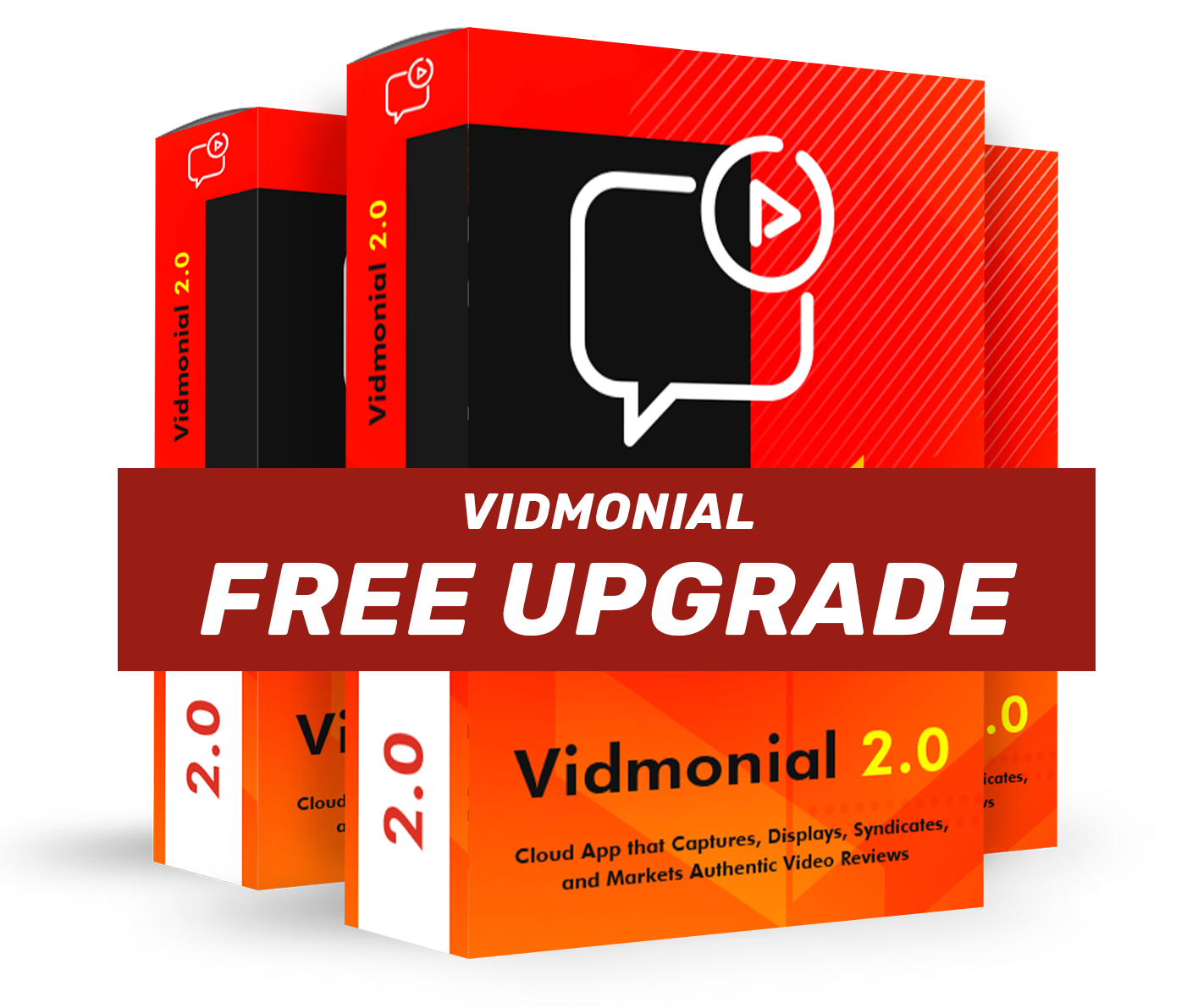 Free Upgrade #5:
FB Vid Matic (Unlimited Reseller License)
Pull high-quality videos from FB w/ this unique tool. Make a niche site loaded w/ FB viral videos w/ monetization ability if you wish.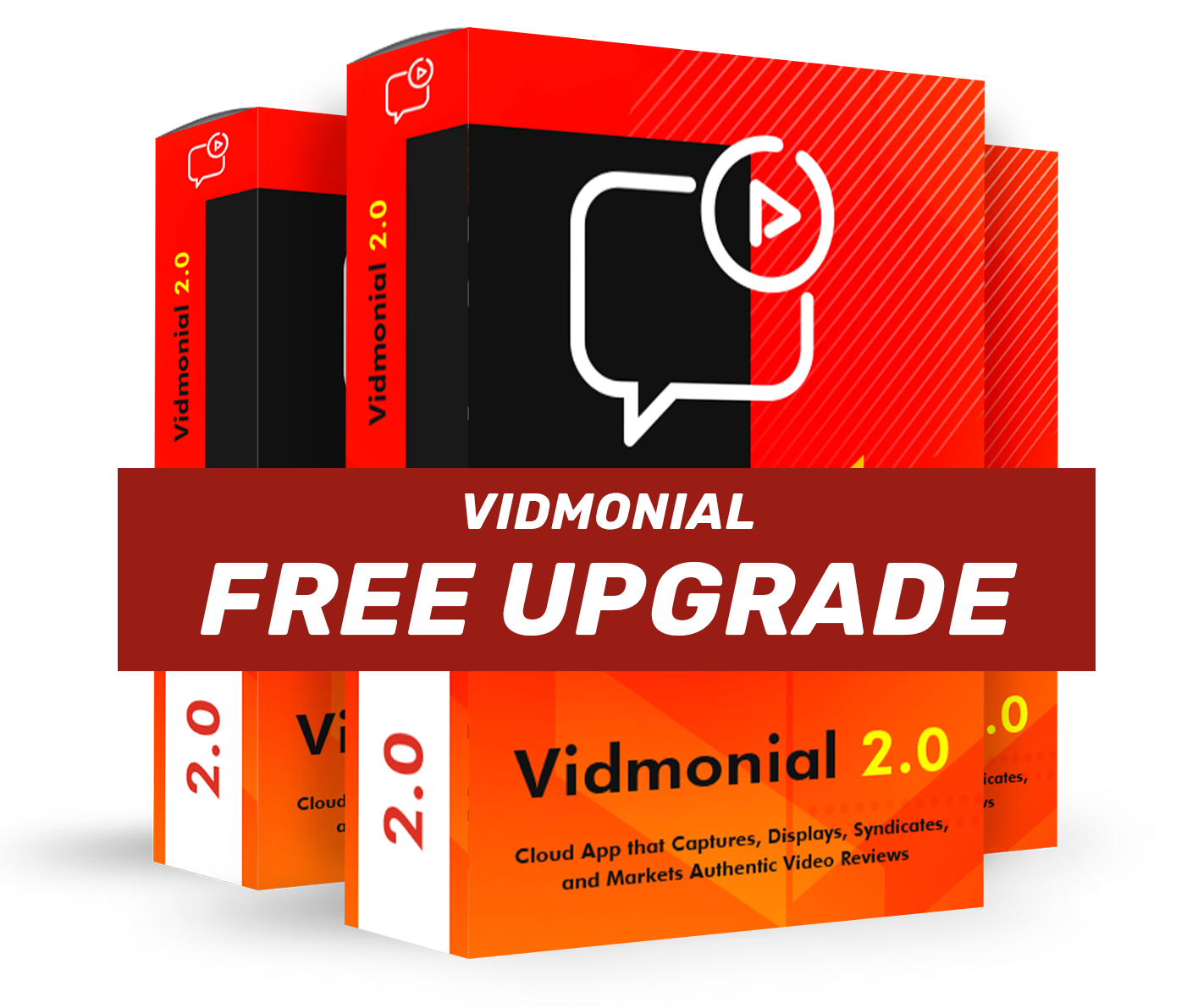 Free Upgrade #6:
SERPScribe Pro (Unlimited Reseller License)
This app creates fully unique, optimized content & ranks it w/ backlinks and keyword optimization. Help rank your videos or clients videos with this cloud tool + resell to clients.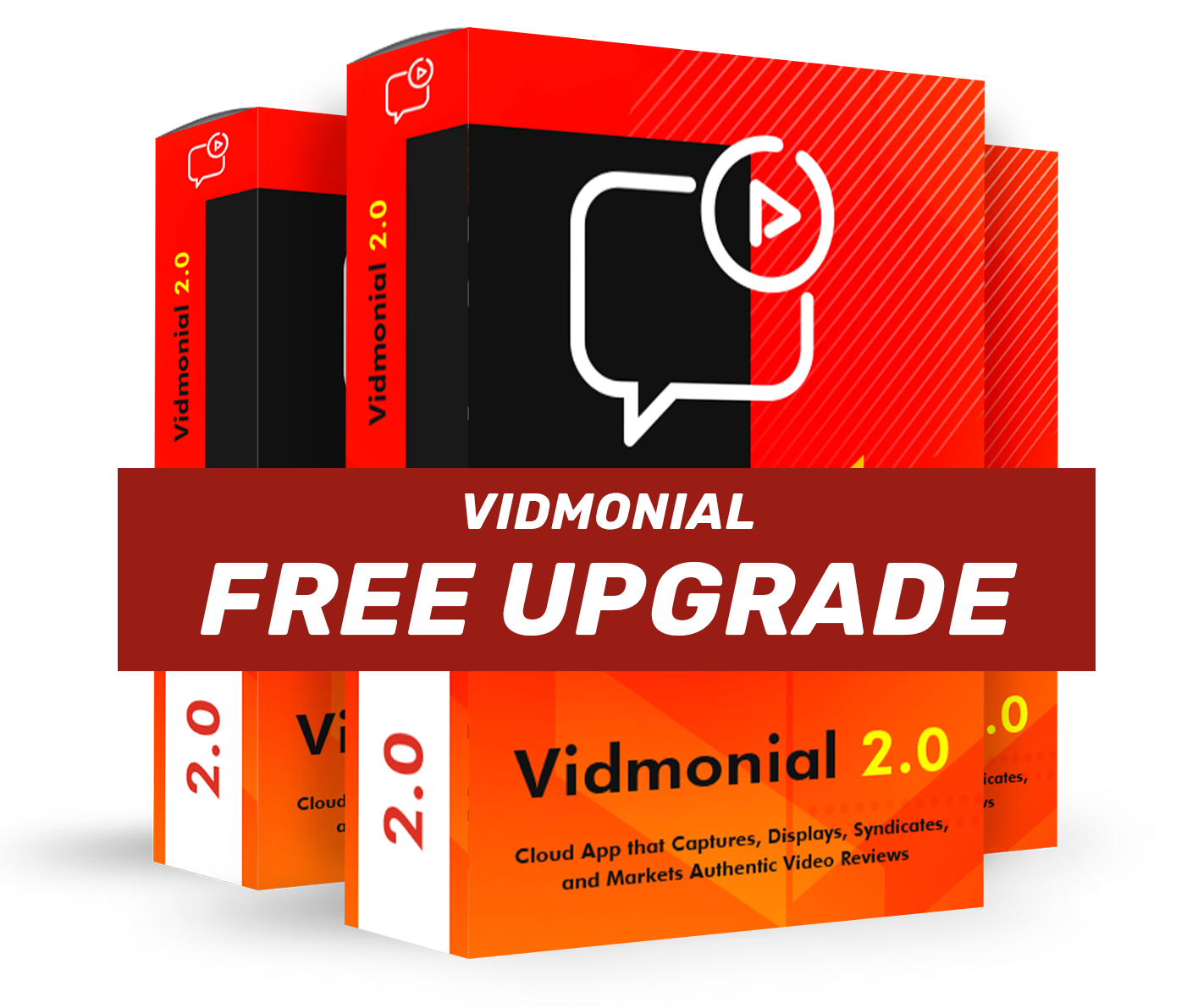 Free Upgrade #7:
200 Articles (Client Usage Access)
Packed with 200 engaging articles in various niches. You can use these articles for your own website content or make a report out of them.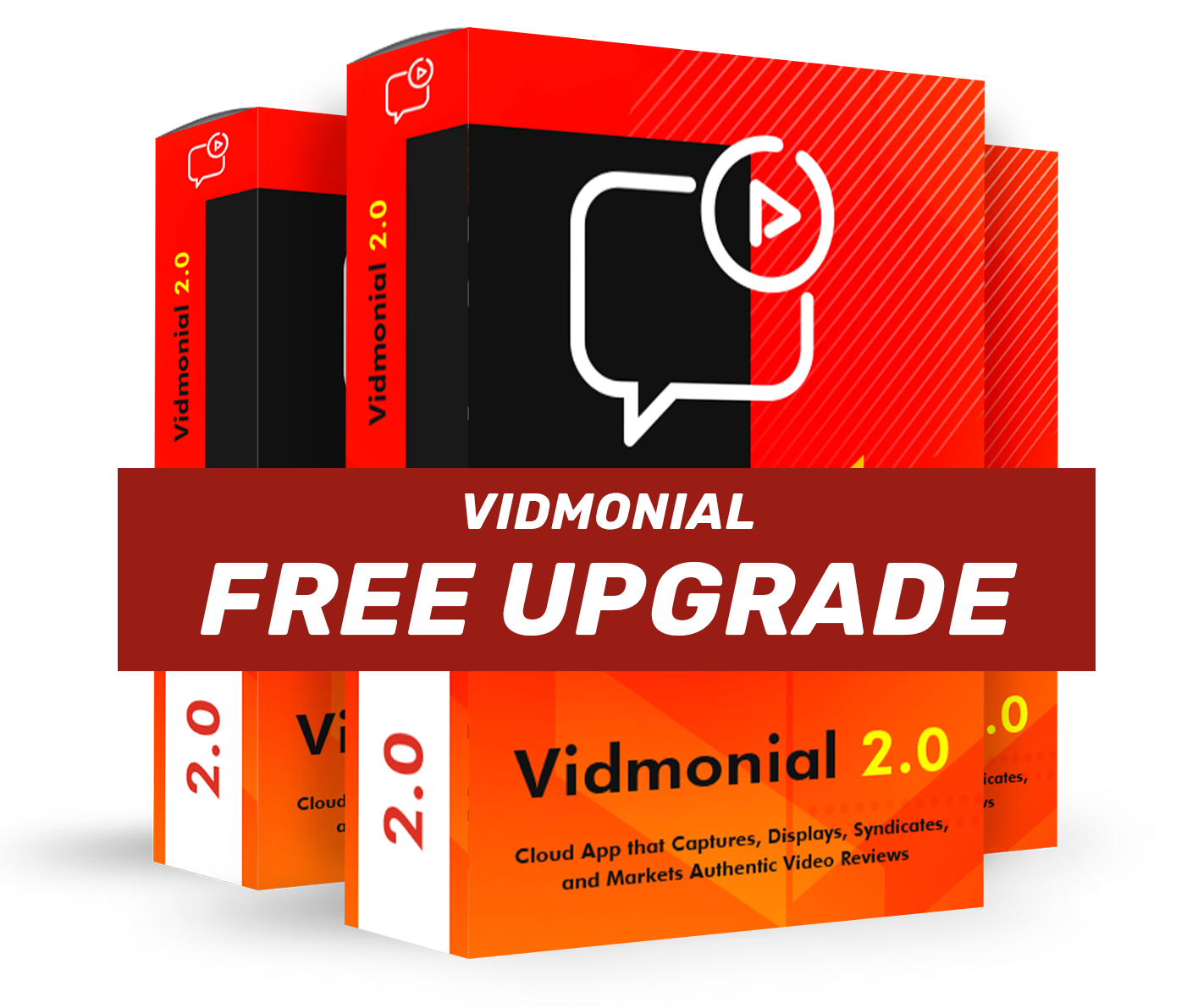 Free Upgrade #8:
Tailored Image (Whitelabel License)
You can now personalize your website for each of your visitors. Transform your website with a different look suitable for each of your visitors to make it more appealing for your audience.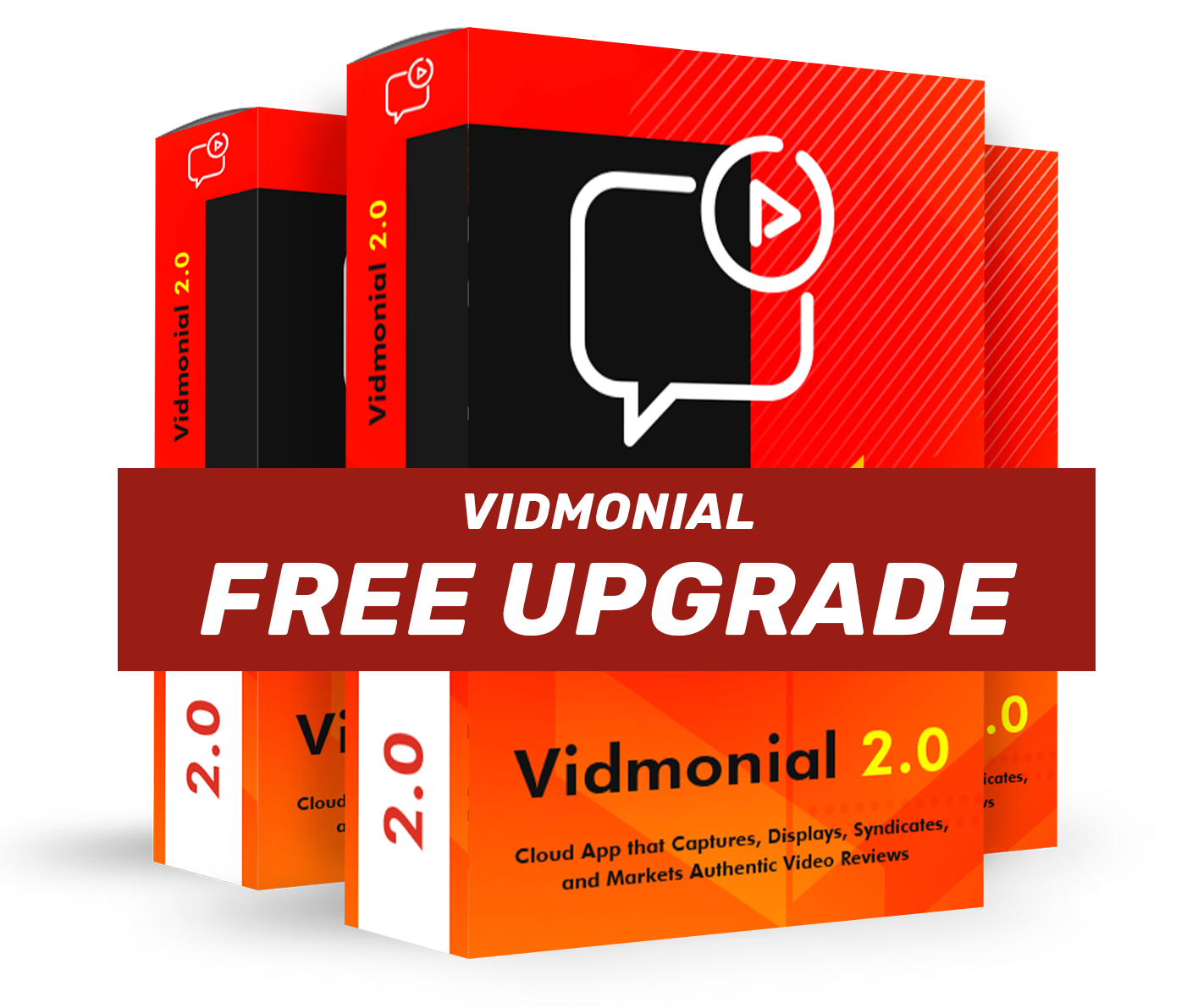 Free Upgrade #9
Local Business Page (Whitelabel License)
Local Business Page collects leads to give quotes and answer questions- that is all built in. This tool makes it easy for you and your visitors to integrate with Google Maps with custom marker content. This app can also create business website in one landing page.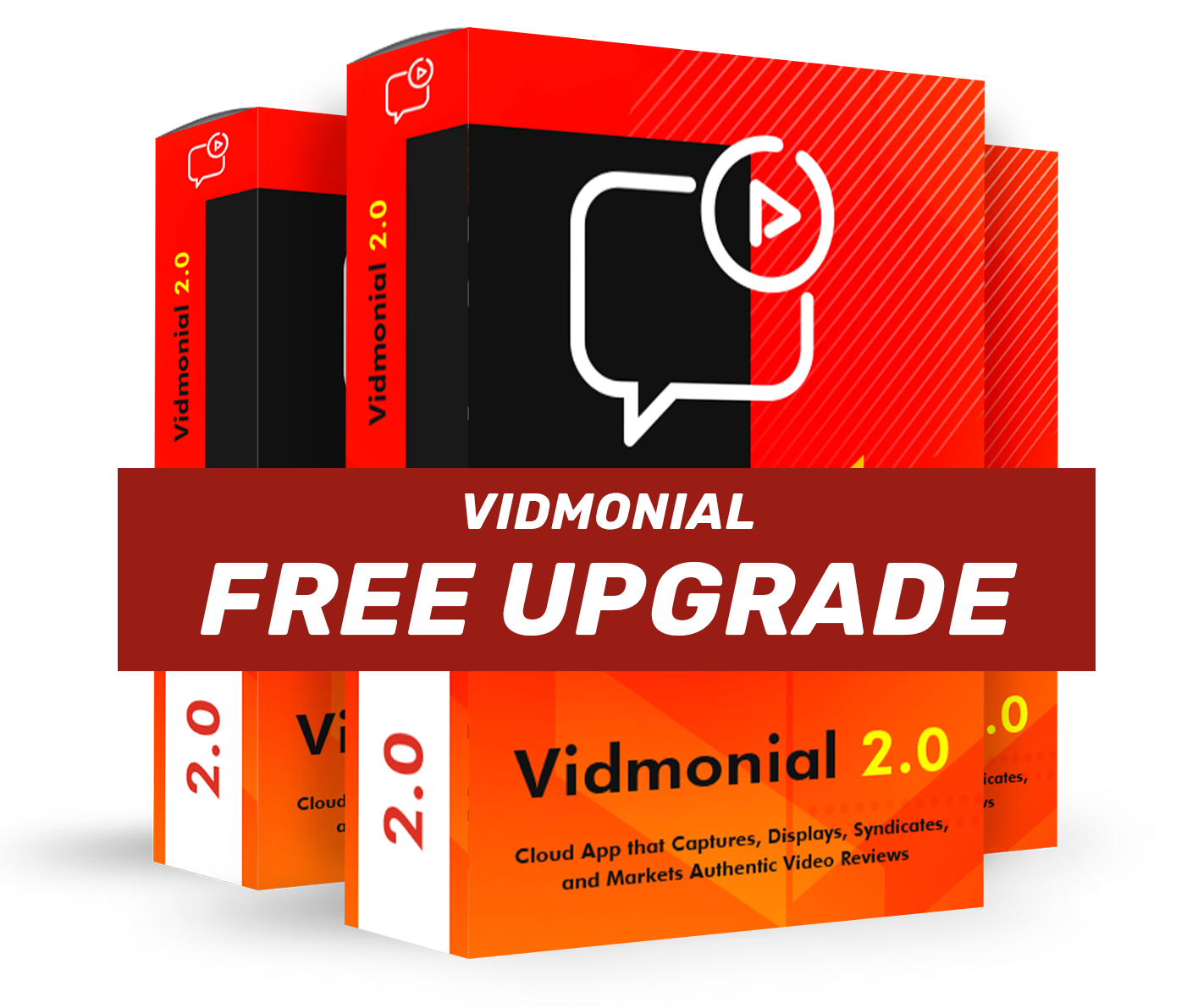 Free Upgrade #10
Xenu's Link Sleuth (Client Usage Access)
A handy,app that will let you check that there are no broken links on your website. Having a website isn't just a question of creating some HTML documents, uploading them to your web space and then forgetting about it. Websites require certain maintenance tasks and one of them is checking links to make sure they all work, making browsing as easy as possible for your visitors.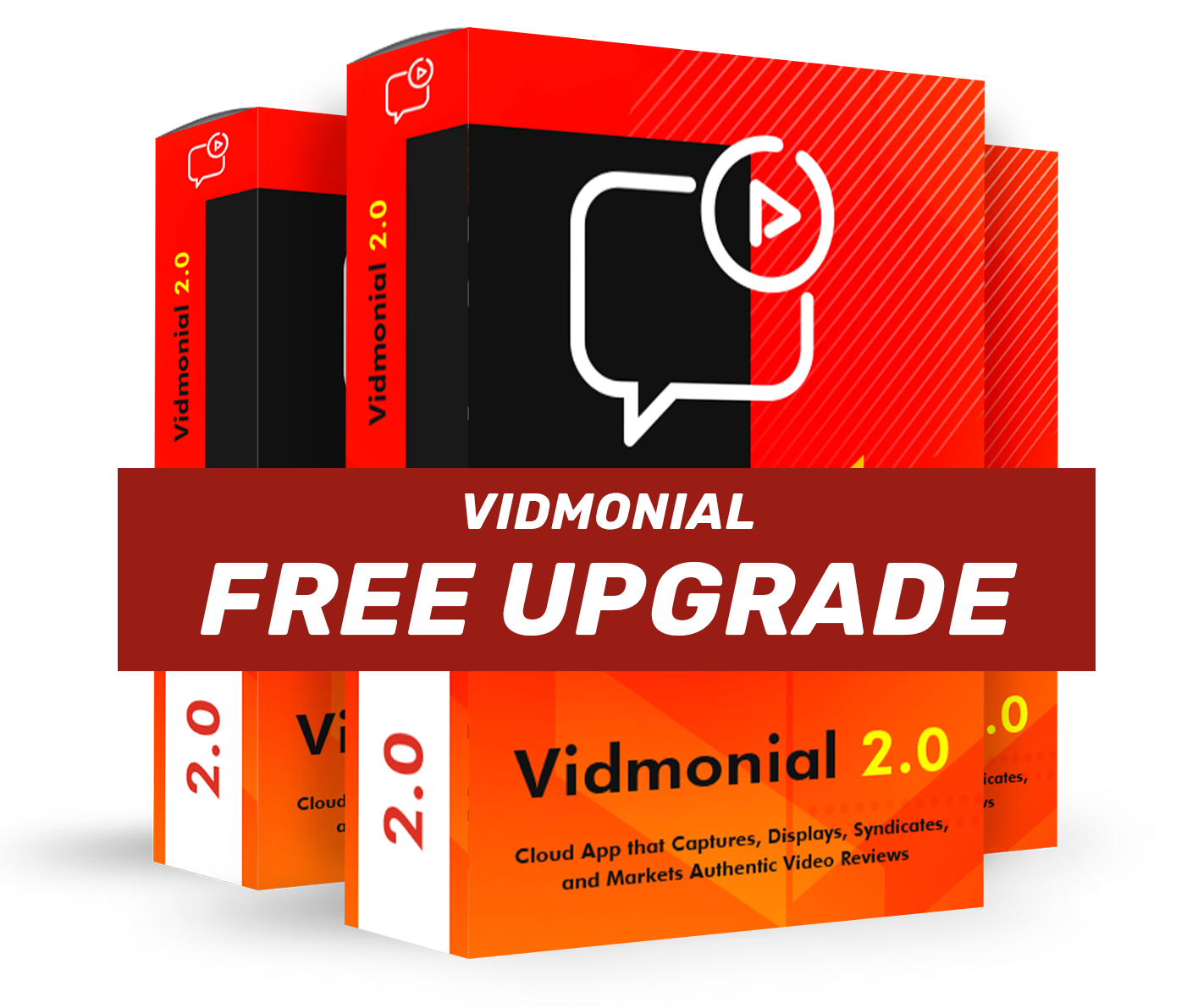 Free Upgrade #11:
TurboZon Builder Pro (Whitelabel License)
A simple but powerful tool which can help you save you precious time in pasting the products that you want to promote with your affiliate link.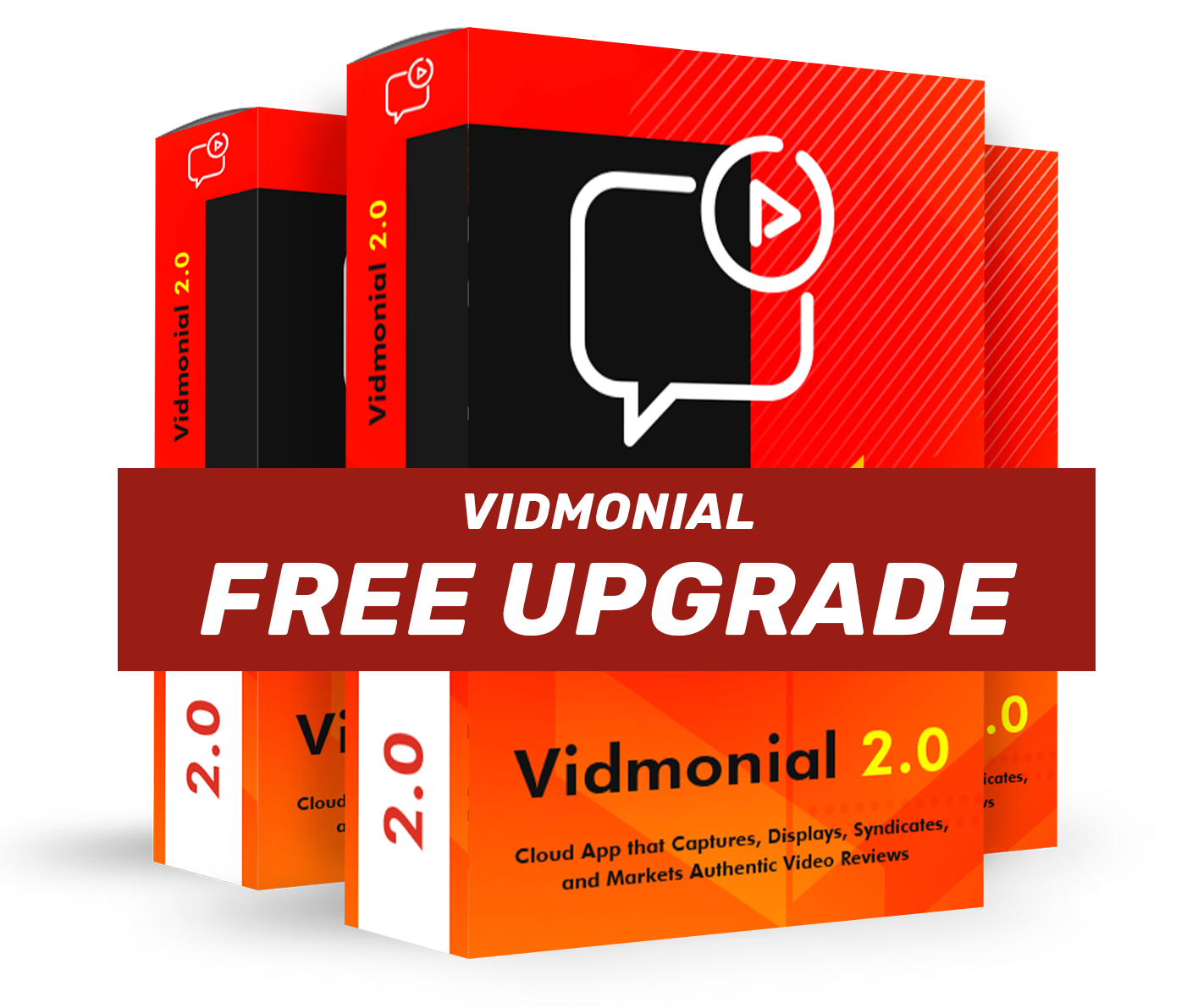 Free Upgrade #12:
Mobile Plugin (Whitelabel License)
Mobile plugin instantly optimizes any WordPress Blog for mobile in one plugin. It is a premium designed plugin that can automatically detect mobile device and display optimized website with your content.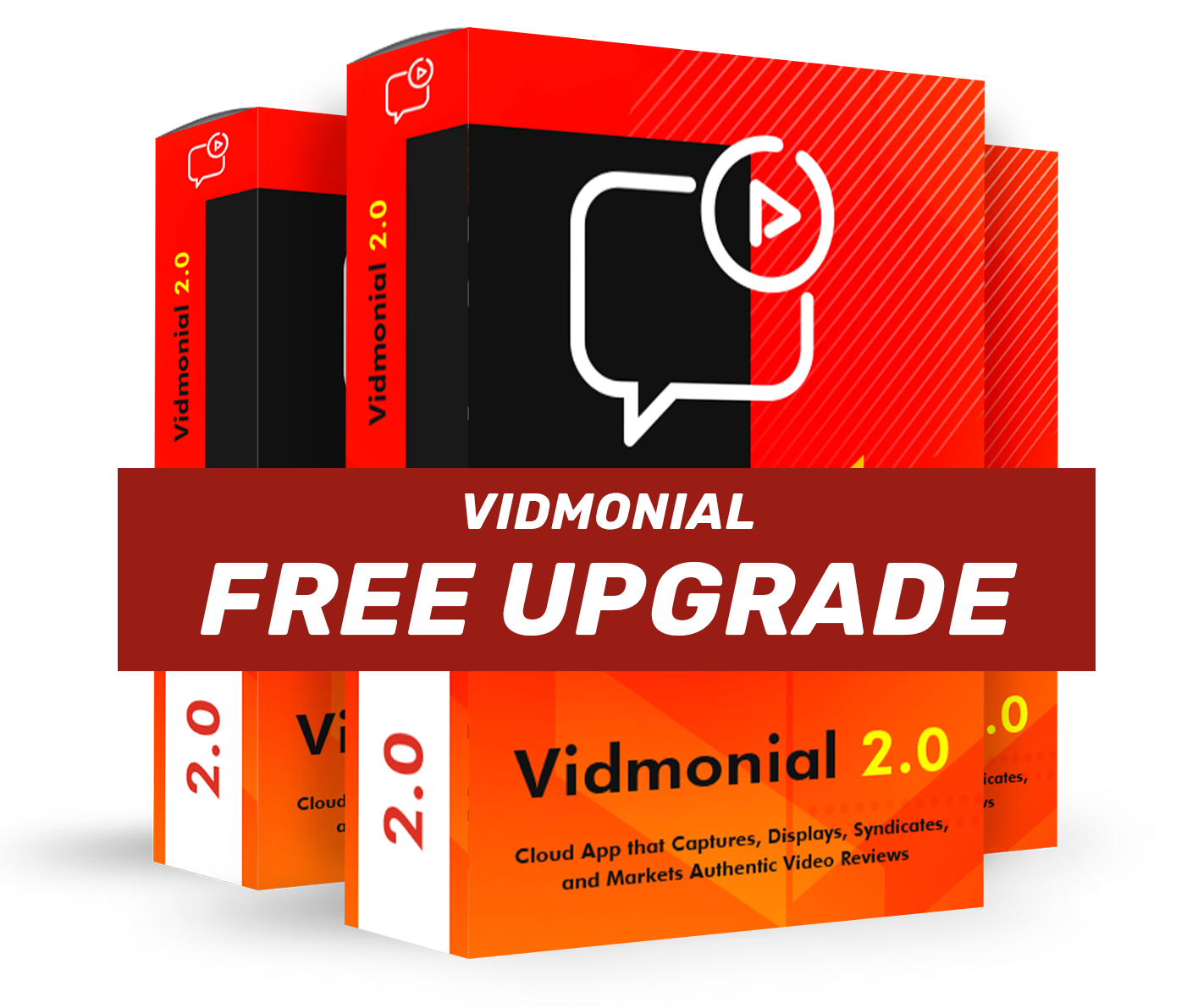 Free Upgrade #13:
ImageMagick (Client Usage Access)
A software suite to create, edit, compose, or convert bitmap images. It can read and write images in a variety of formats Use it to resize, flip, mirror, rotate, distort, shear and transform images, adjust image colors, apply various special effects, or draw text, lines, polygons, ellipses and Bézier curves.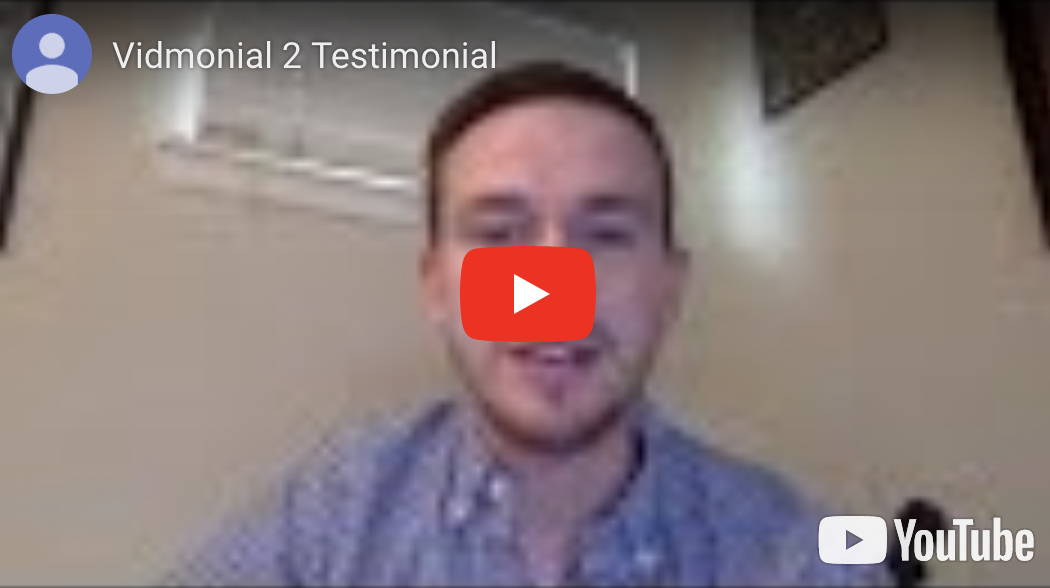 (Real Testimonial Captured by Vidmonial)
"We've been testing it for a while…and already captured as many video testimonials as we did in the last 2 years of trying. -Brent""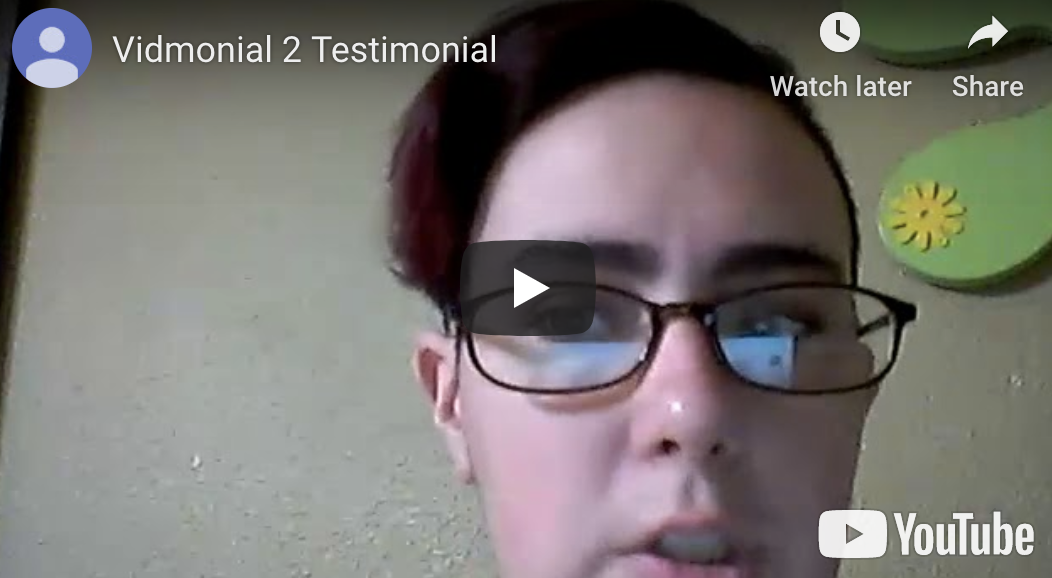 (Real Testimonial Captured by Vidmonial)
"This app is an extremely simple, benefical tool to any marketing arsenal… it's very easy to get testimonials in a few clicks." – Cheyanne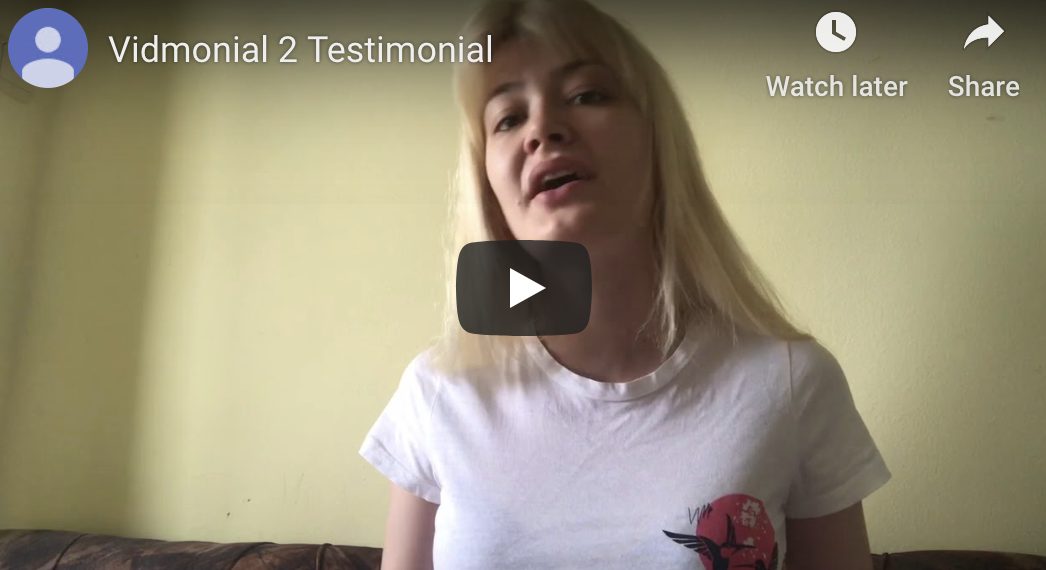 Real Vidmonial User
"I an firmly state this is an excellent tool for my business and I really love it… I already got a few testimonials after a little bit of work" – Heather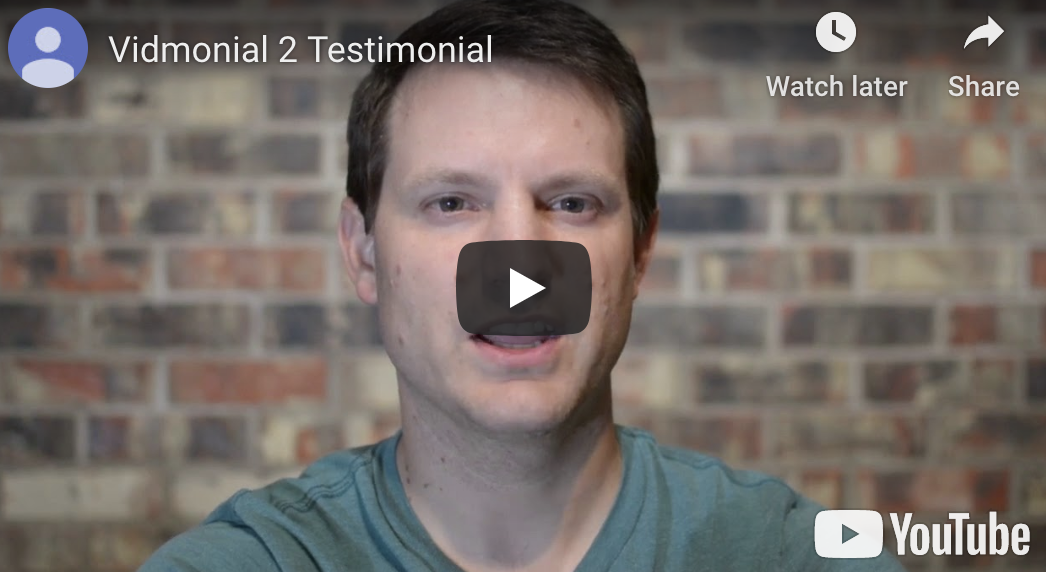 (Real Testimonial Captured by Vidmonial)
"I've used a lot of softwares over the years and am extremely impressed with the feature set of Vidmonial 2.0, more importantly, it's dead simple to use…" – Clayton.
Fact is, Vidmonial 2.0 works and the social-proof delivers more sales. Period.
Sometimes your inner muse is asleep on your marketing job.
That's where Vidmonial 2.0 comes in – by letting you use video testimonial social-proof when none of your competitors do. Instant advantage over them…steal them sales!
Get the Vidmonial Advanced Kit Upgrade FREE today with Vidmonial 2.0!
Make sure you see affiliate ID 685227 on checkout to qualify for this bonus. The bonus is delivered automatically in your JVZoo receipt. If you do not see affiliate ID 685227 or have any issues getting your bonus, please contact us at support.vineasx.com

Get Vidmonial 2.0 With Vidmonial Advanced Kit Upgrade